CEBA – the $40,000 business loan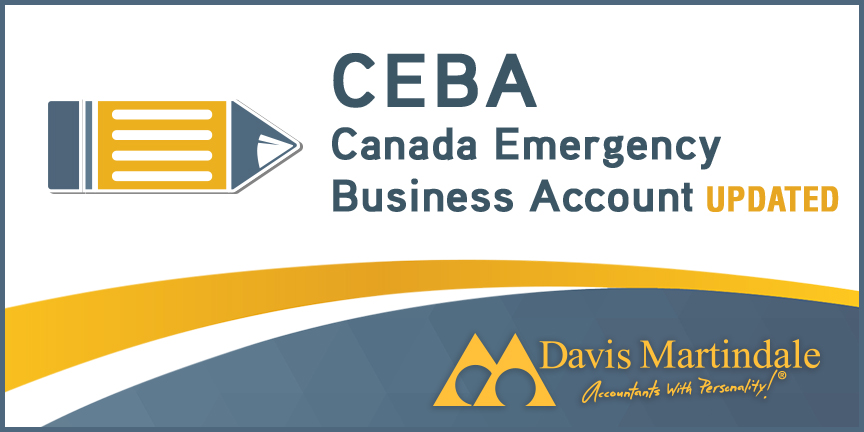 On May 19, 2020, Prime Minister Justin Trudeau announced that the Canada Emergency Business Account ("CEBA") will be expanded to include businesses that are sole proprietors receiving income directly from their businesses, businesses that rely on contractors, and family-owned corporations that pay employees through dividends rather than payroll. We will post more details as information becomes available.
The CEBA is among the business support measures introduced in the Federal Government's COVID-19 Economic Response Plan.   Working with financial institutions, the CEBA provides a loan of up to $40,000 to eligible businesses to assist with their immediate operating cash flow needs. If repaid prior to December 31, 2022, 25% of the amount loaned under the CEBA is forgiven.  For complete details and to apply, contact your business' current financial institution.
Canada Emergency Business Account
A government guaranteed loan to a maximum of $40,000 to help eligible businesses with operating costs, with the following terms:
The loan is interest free, and 25% (i.e., $10,000) of the loan is eligible for loan forgiveness if 75% (i.e., $30,000) has been fully repaid on or before December 31, 2022. It also has no principal repayments during this period;
If the loan is not repaid by December 31, 2022, it can be converted into a 3-year term loan, and will be charged an interest rate of 5%, payable monthly. It will still not incur any principal payment requirements until December 31, 2025; and
Guaranteed by the Government of Canada.
Eligible Businesses
In order to be eligible for the CEBA, a business must meet the following criteria:
There are no conditions on the type or form of business, however, the business must have a CRA Business Number and be operational on or before March 1, 2020.
The business must have an active business bank account with a financial institution on or before March 1, 2020, and must be in good standing with the financial institution. Businesses that operate using a personal bank account will not be eligible.
2019 payroll of $20,000 to $1,500,000 as reported in Box 14 of the business' 2019 T4 Summary.
One person with authority to bind the business must attest that the funds will be used for non-deferrable business expenses;

Types of eligible expenses include: payroll, rent, utilities, property tax, and scheduled payments on existing debt, etc.; and
Examples of expenses not eligible include: prepayment of existing debt, management bonuses, dividends, etc.

The following types of organizations do not qualify for the CEBA:

Government, or government owned organizations;
Business owned by a person holding political office; and
A union, charity, or religious organization, except to the extent that it, or an organization owned by it, generates a portion of its revenue from taxable sales or services as reported in a T2 or T3010 Tax Return.
Other Important Information
A business can only apply for the CEBA at one financial institution, and that must be its primary financial institution:

The primary financial institution is where the business holds its every day business banking account; and
Attempting to apply at more than one financial institution may result in legal consequences.

Receipt of a loan through the CEBA does not preclude the business from participating in other COVID-19 Economic Response Plan programs.
Each business, i.e., having a distinct Federal Business Number, can apply for the CEBA:

Associated corporations do not share the CEBA.
Each business must make a separate application.

No credit check will be performed during the approval process.
Application process
Businesses must apply directly through their primary financial institution

Applications are submitted online only – refer to the financial institution's website for instructions.

Financial institutions expect to be able to begin accepting applications by April 9, 2020.
See your financial institution for their timeline and for more information.