Seamless Connection With Your Business
That's Our Signature
Business Accounting Services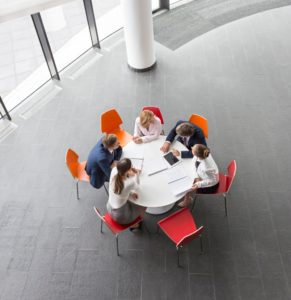 We are innovators in the accounting space, seamlessly connecting our skilled professionals and your business, with a touch of personality.  We are known for talking about more than just business in our meetings! By getting to know how your business impacts you, your family and your community, we can help you to achieve success on your terms.
Small, large, local, international or somewhere in between?  The depth of our team's knowledge and experience and our access to firm-wide resources allows us to help a diversified client base of individuals, professionals and businesses from all industries, ranging in size, and each within a unique stage of their journey, to reach their next milestones.
It goes without saying that integrity, hard work and quality without compromise are at the core of what we do, but to us, it's about so much more than that.
You can expect more than just a report from us!
We've stacked our deck with highly qualified industry leaders from all accounting disciplines.
We work with a range of technologies – to save you time, increase efficiencies and help you to do better business.
We look beyond the numbers – giving you tangible and manageable plans to streamline processes, increase revenue, manage risk, plan for growth and improve your business.
We meticulously plan and use dedicated staff – ensuring an efficient and stress-free experience, allowing you to focus on what you do best!
One shoe does not fit all – so we'll offer an appropriate level of assurance based on your needs, future plans, and industry factors.
We'll listen – our clients call us to solve problems, give a second opinion and for reassurance when they need it most.
We're connected – to the DFK network, giving us direct and immediate access to professional resources from over 455 worldwide offices in 94 countries, ensuring your international interests are maximized.
We'll provide accounting with personality – it's our trademark, but it's also who we are. Relationships matter!
Accounting & Financial Reporting
We provide solutions based on the most appropriate level of assurance for your business and can also assist with minimizing tax exposure, HST, Payroll deductions, WSIB and EHT.
Notice to Reader (NTR) – Minimal level of engagement
Financial statements are created based on your in-house financial data and provides no assurance to the accuracy of the statements.  Commonly used for owner-managers involved in the business, but do not have external stakeholders or material financing arrangements.
Review – Limited level of engagement
Includes discussion with management and analysis of financial information to conclude that there is no reason to believe that the financial statements are not fairly stated.  Highlights unusual items or trends, inquires on findings, and includes disclosures and a statement of cash flows.  Commonly used to satisfy lenders or investors.
Audit – Maximum level of engagement
Provides the highest level of assurance through examination of invoices, bank statements and cheques, financial reporting practices and controls to confirm accuracy, identifies control weaknesses and highlights business risks.  Commonly used by private companies to satisfy shareholders or lenders for credit that exceeds a certain threshold.
Auditor's Report: A further description of the auditor's responsibilities
Our dedicated audit teams specialize in:
Compliments
After working with many accountants, I chose Davis Martindale for my growing tech company a few years ago and haven't turned back. I needed more thorough strategy and international help, and Davis Martindale's team not only gave great advice, but never hesitated to walk me through reports, strategies and more so I felt fully informed. Today they are an integral part of my business success.

Melissa McInerney, CEO, tbk,
London, ON
Compliments
Davis Martindale has been providing exceptional services for my dental practice for 30 years. They have guided us through many challenges - including partnership creations and dissolutions, and CRA audits - with calm expert advice.  Mr. Barran has always been available when we require urgent advice, and I am proud to consider him not only my accountant, but my trusted advisor. 

Dr. S.J. Weinberger,  D.D.S., M.Cl.D., F.R.C.D.C.(C)Pediatric Dentistry, F.R.C.D.C.(C)Orthodontics, Diplomate of the American Board of Pediatric Dentistry, Diplomate of the American Board of Orthodontics,
London, ON
Compliments
An excellent go-to type of accountant for all purposes. Bruce Barran dispenses excellent pragmatic advice for all types of situations. He educates well and in a clear manner that clients understand and appreciate. He has a unique ability to give advice that has a long-term vision. He does not react emotionally. He has excellent meditative abilities to bring people, if not together, then to a solution which is reasonable to all. He's very resolution orientated and driven. He excels at making deals.

Grant Inglis, Partner, Scott Petrie LLP,
London, ON
Compliments
The service from Bruce and the Davis Martindale team has been exceptional for us. From small queries answered promptly to shareholder configurations, the level of expertise and professionalism is second to no one. I trust Davis Martindale to provide the most reliable advice every time.

Carl Thompson, COO, OES Inc.,
London, ON
Compliments
Bruce Barran's effort and advice to my organization has been invaluable. He has always acted like a business partner with the utmost integrity and commitment to detail. I would highly recommend Bruce as a trusted advisor.

Darren Langhorn, President, Langhorn Marketing Group (Former Owner of Integrated Warranty & Vehicle Armor Group),
London, ON
Compliments
We started dealing with Bruce Barran and Davis Martindale in 1989, for more than 31 years Bruce has been reliable, personable, and professional. He is an "accountant with personality" and a trusted partner to Hyde Park Equipment.

Larry Annaert, President, Hyde Park Equipment Ltd,
London, ON
Compliments
The team at Davis Martindale provided us with their entrepreneurial and practical perspective focused on achieving our objectives. In addition they were responsive and truly enjoyable to work with.

Steve Bryant, Principal, IC Funding,
London, ON
Compliments
I have had the pleasure of working with Sarah, Ron, Brent, Janece, Louise, Terri-Lynn and many more across multiple teams throughout the years on everything from best practice guidance, year-ends, payroll, compensation structuring, tax abatement, and valuations for an international, multi-tier corporation. I can safely say I would not have been able to do it without their guidance and expertise. If you choose Davis Martindale you will not be disappointed at the value they provide you and your organization, whether you are a finance professional or a budding small business. Thank you sincerely for all your team does!

John Warnock, Chief Operating Officer, Mobile Electronics Inc.,
London, ON
Business Advisory Services
We offer relevant, accurate and timely management accounting advice and services to help you make good business decisions including budgeting, costing, financial analysis and forecasting.  Our unique access to the interVal and our firm-wide resources can also help with developing or updating your strategic business plan to move your business forward.
Learn More About interVal
Innovative Bookkeeping
Our Financial Data Management experts can work with a range of the latest technologies, consult on options to improve your business and help with smooth implementation.
Manage accounting transaction and bank feed data
Reconciliation of bank and credit card statements
Examination of accounts receivable, accounts payable transactions and sub ledgers
Monthly financial data evaluation
Generate monthly internal KPI's

Clean reports and crisp year ends hand in hand with
up to the minute, insightful and technically sound advice
that you can trust.
Work With Us
Our team is ready to have a personalized discussion with you.