COVID-19 Canada Emergency Commercial Rent Assistance (CECRA) for Small Businesses
The Federal Government has partnered with the provinces and territories to implement the Canada Emergency Commercial Rent Assistance (CECRA) for small businesses. The program provides forgivable loans to eligible commercial property owners experiencing potential rent shortfalls because their small business tenants have been heavily impacted by the COVID-19 crisis. It also provides urgent relief by lowering rent by at least 75 per cent for small businesses for the months of April, May and June 2020.
Application:
The application portal for all provinces opens on May 25, 2020 in the following staggered approach: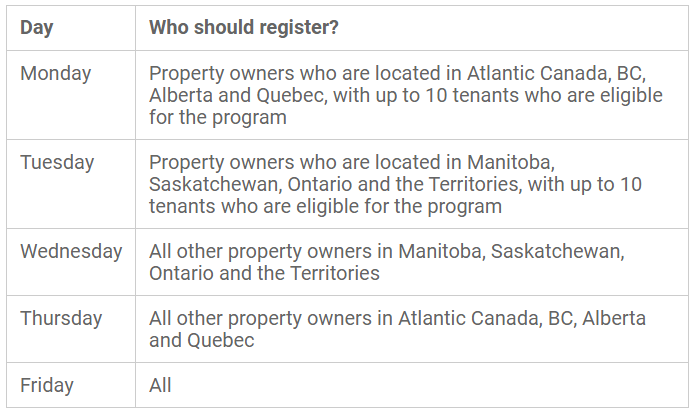 The CECRA is being administered by the Canadian Mortgage and Housing Corporation (CMHC). See website for FAQ's: https://www.cmhc-schl.gc.ca/en/finance-and-investing/covid19-cecra-small-business
Titled the Ontario-Canada Emergency Commercial Rent Assistance (OCECRA) in Ontario, under the program, small business tenants and landlords would each be asked to pay 25 per cent of the before profit costs and the provincial and federal government would cost share the remaining 50 per cent.
To receive the loan, property owners will be required to reduce the rental costs of small business tenants for April to June 2020 by at least 75 per cent;
There must be a signed rent forgiveness agreement between impacted tenants and landlords with a moratorium on evictions for April, May and June 2020;
The property owner must be the registered owner and landlord of the property;
The property owner must have declared rental income on their personal or corporate tax return for tax years 2018 and/or 2019;
Commercial Properties with a residential component, and residential mixed-use properties with a 30 per cent commercial component, would be equally eligible for support with respect to their commercial tenants.
The property owner must have a mortgage loan secured by the property which is occupied by one or more small business tenants;
If a property owner does not have a mortgage secured by a commercial rental property, the property owner should contact CMHC to discuss program options, which may include applying funds against other forms of debt facilities or fixed cost payment obligations (e.g. utilities).
Small Business Tenants:
Pays monthly rent not exceeding $50,000 in gross rent payments per location;
Has no more than $20 million in gross annual revenues on a consolidated basis; and
A non-essential small business that has temporarily closed, or who is experiencing a 70 per cent drop in pre-COVID-19 revenues (determined by comparing revenues in April, May or June to the same month in 2019 or alternatively compared to average revenues for January and February 2020).
Not-for-profit organizations and charitable entities would also be considered for the program.
For further details visit: https://www.news.ontario.ca/opo/en/2020/04/ontario-canada-emergency-commercial-rent-assistance-program.html or https://www.canada.ca/en/department-finance/economic-response-plan.html